Small Amount coating, No Waste Liquid!
Sleet GEN-EKI



Sleet GEN-EKI is Release agent for die-casting which you can use it as it is without
diluting. You can reduce coating amount to equal or below one hundredth of water
diluted release agent. Materialize no dripping = no waste liquid !
Of course, releasability, seizure resistance and evaporation effect are outstanding.
Please try to use new aquatic release agent which are excellent in performance,
environment aspect and working plane.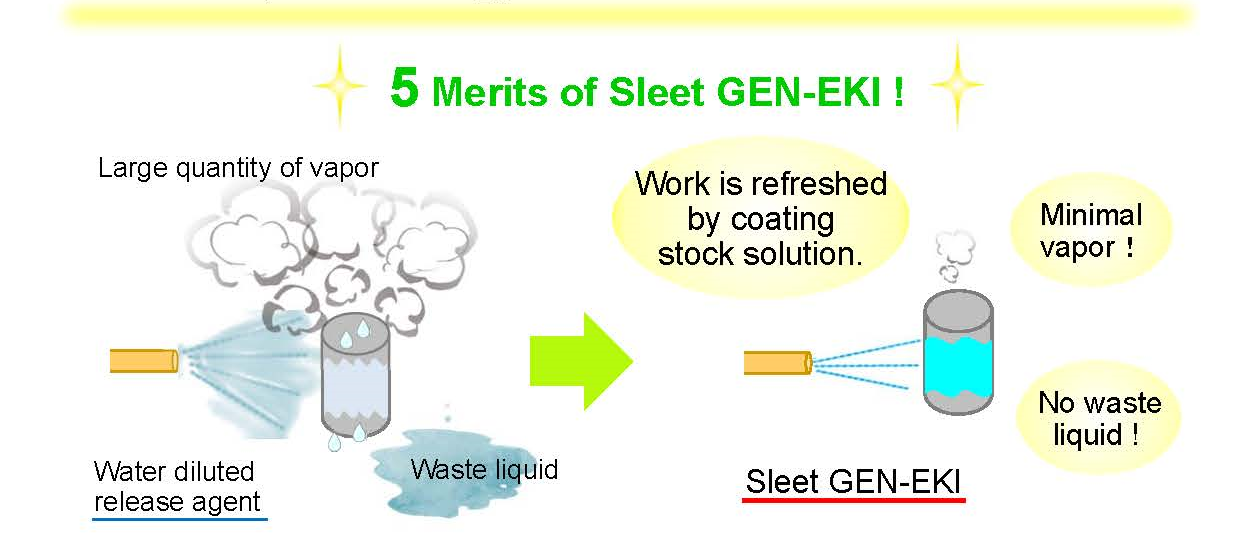 ---
1. No waste liquid from release agent
     No dripping and no waste water treatment is necessary.Keep work shop clean.
2. Large amount of vapor and soot are not coming out
     Due small amount of stock solution, vapor is small.
     Scattering quantity of release agent is also small.
3. No diluting facility necessary
     No diluting tank is necessary and No control of diluting ratio thus increase
     work efficiency.
4.Increase life time of mold
     Due no sudden cooling by large amount of release agent, no load to mold
     and prevent generation of heat crack.
5. Nonframmability and safe
     No fire risk and easy to store. You can use it safely.
| | |
| --- | --- |
| Outer appearance | White liquid |
| Specific gravity | 0.99 (25°C) |
| pH | 9.5~10.5 |
| Flash point | Nil |
Usage method
Use stock solution as it is.
Stir solution before use.
When using, make sure conditions such as amount of agents etc. by conducting preliminary test.
Cautions
Read thoroughly safety data sheet.
Fire Service Act of Japan
Non-hazardous substance
Packing
18Lcan